Meet the 2020 Racing Team
There is a saying that slow and steady wins the race. However the athletes below show that being fitter and faster is better, especially if you want to win races and medals. Meet the elite racing team for 2020.

Sophie Atkinson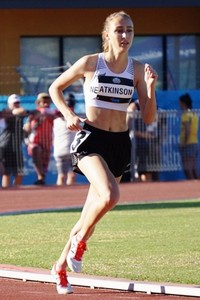 Sophie Atkinson is New Zealand's premier U20 800m runner. She started her running career in Year 9 and 10 by competing in park runs, cross country and xterra forest runs. She has since gradated as a fearless front runner who is dominating the 400m and 800m lists. She has topped the NZ U20 800m rankings list for the last 2 years with a PB of 2m11 and had wins in both the NZ Secondary Schools 800m champs (December 2018) and the NZ U20 800m champs (March 2019). She followed that up with a silver medal in the 2019 Oceania 800m champs. Sophie is a girl who is going places fast!
Peyton Leigh
Peyton Leigh is the rising star of New Zealand athletics with an impressive resume of wins and medals at Auckland and New Zealand Championships. When Peyton was only 15 years old she ran an extremely fast 2m12 for 800m. During the last winter season, she managed a hip injury but was still able to finish near the front in the New Zealand cross country championships. This underlined her versatility in any athletics event and was confirmed during January 2020 when she placed 2nd in the NZ U20 3000m Championships. With 2 years to go at high school, Peyton is on the radar of many USA college athletics scouts as she continues to clock up many new wins, medals and fast times.
Kimberley May
Kimberley was Auckland Athletics 2018 highly commended sports girl of the year as well as the double Auckland Champion for 800m and 1500m. Those who have followed her progress will not be surprised by these results as when Kim was 14 she became the Auckland 1500m resident record holder. Kim is only a very recent addition to the squad and currently has PBs of 2m14 and 4m41 for 800m and 1500m. Kim is a not afraid to train hard and consistently pushes all the other girls to their limits. Kimberley May is the athlete to watch during 2020
Lise Thimon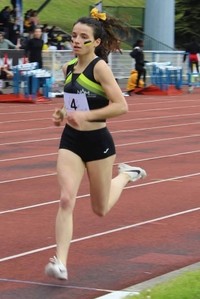 Over the last 3 years Lise has consistently medalled in the French outdoor and indoor 800m championships. She is currently in NZ to train, race and learn English. Despite it being her off season, she raced in Auckland over December and recorded two of the fastest times of the year for 1 mile and 3000m. Lise is an experienced championship runner and has personal best times of 2m7 for 800m and 4m23 for 1500m. During 2020 she will branch out to 3000m races. Having witnessed her training efforts we know she is going to test whoever lines up against her.
Meghann Stewart
Meghann has had outstanding success. She is a former World Masters 1500m Champion and silver medallist in the 800m. Over the last few years she has remained near the top of the world masters 800m and 1500m rankings. Meghann Stewart remains the consummate professional in her attitude and commitment to staying at the top of her grade. To remain as one of the top master's runners in the world she regularly trains at high altitude camps in Iten, Kenya and is not afraid to travel to race the very best. In the last year she has set new Auckland records for W55 800m and 1500m, new NZ records for 800m and was most recently gold medallist in the NZ North Island 400m and 800m.
Penelope Salmon
Penelope is NZ's superstar junior orienteering champion who can also run track and cross country extremely fast. During 2019 she won the North Island schools 3000m championships by 30 seconds and then dominated the very best athletes in Auckland by winning club and school cross country races by well over 1 minute. However, orienteering is Penelope's focus and as such she has competed around New Zealand, Australia and Scandinavia against the very best competitors in the world. Watch this space as Penelope makes her way to the Junior World Short Course Orienteering Championships during 2020.
Emily Hacket Pain
Emily has represented New Zealand twice in the school's World Cross-Country Championships, the first in 2016 in Budapest and then in 2018 in Paris. In the Paris event she won a bronze medal. She is also the current Auckland Cross Country Champion and last year was the 2018 North Harbour Youth Women's Distance Runner of the Year. As well being a top athlete Emily is also a significant scholar with top achiever, emerging leader and academic excellence scholarships for all the NZ Universities. She is a Duke of Edinburgh gold medalist and in her spare time is a surf life saver. If that isn't enough she is also a community award winner and a Kiwi Bank local hero.

Elliette O'Brien
Elliette has been running since she was 6 years old and over that time has won numerous awards for cross country and 1500m races. Over the last few years she has had great success competing for her school cross-country team at NZ championships, accumulating multiple gold medals in the team's event. In 2016 and 2018 she was the first reserve for the school's World Cross Country team. Running individually has also brought great success. In the last year she has gained a silver medal in the Auckland Athletics 1500m and bronze in the New Zealand U20 Road Race Championships.

Aimee MacKenzie
Over the last 2 years Aimee has graduated from being gold medalist in the 3000m, Auckland Counties school races, to her most recent race where she became the 2020 Auckland 5000m Champion. In years between she has won medals in the NZ U20 Road Relay Champs, won the 2019 ACA Senior Women's 1500m Cup and was the 2018 U20 Auckland Mile Champion. She was also bronze medalist in the 2018 North Island U20 Cross Country Champs. On top of all this athletics success Aimee balances study for her Sport and Recreation degree. In the future, top sportsmen and women will benefit from Aimee's academic excellence as well as her personal insight and experience from being an elite athlete.
Lucy Shennan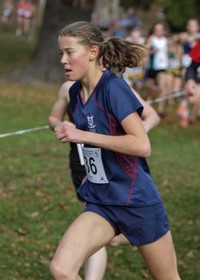 Lucy has been out of training for most of 2019 due to a bad ankle sprain. However she is accustomed to hard work and the sprain just meant lots of gym and rehab. This summer Lucy will be back and up the front. Lucy has a particular liking for gold and silver as she has won numerous team medals at the NZ Cross Country and the NZ Road Racing Champs. Watch this space as during 2020 she will be back leading the pack.

Madeline Leigh
Madeline Leigh is used to medals but interestingly not (at the moment) in track and field. She is a multi-medalist at national hockey competitions. Maddi is so good at her chosen sport that even at the age of 15 she has been regularly playing in senior grades against NZ Black Sticks players. To help maintain her skills and fitness edge she is not afraid to train with and against the very best. There are rumours that Maddi will race the 2km steeplechase event during 2020. Regardless we are certain that Maddi will continue her march towards being a household name in NZ Hockey.
Ivor Martin
Ivor may only be 10 years old, but he is already accumulating a number of fast times and medals against boys much older. In the local 5km park runs he has a PB of 19m5s, has run 1 mile in 5m37s, 1500m in 4m58 and 800m in 2m32s. He is also the Kings School U12 champion for 800m and 1500m, the Auckland Marathon 2km, U12 winner, was a top 10 finisher in the NZ Cross Country U12 Championships and top 5 finisher in the North Island U12 Cross Country Championships. Ivor started 2020 with wins in the Colgate Games 800m and 1500m and then dominated the same events in the Trans-Tasman races.
Louay Benaoum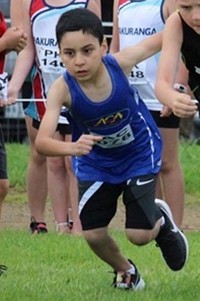 At only 9 years old Louay already has a 20m52 park run time. That gives him a 78% age grading. We are certain that Louay will run that distance under 20 minutes this year which should give him an age grading of over 80%. That would rank him nationally in any country. Despite running against boys much older he consistently finished in the top 3 in last years Auckland Cross Country series. Louay is another boy to watch during 2020.
Laura Richardson
Meet our Captain Fantastic, Laura Richardson. Whether it be rain or shine Laura will be at the track spreading positive energy, enthusiasm and encouraging and inspiring all the other runners to do their best efforts. Laura also leads by example and is the Sancta Maria College 800m champion and record holder. At high school Laura was a top excellence student who is now off to study at university during 2020.