2023 Racing Team
There is a saying that slow and steady wins the race. However the athletes below show that being fitter and faster is better, especially if you want to win races and medals. This team is prepared to put themselves on the line and push through prior-thought limits in training. They are successful through their consistent discipline, determination and devotion. This includes many hours, days, weeks and months of training. Remember their names as they are all going to achieve great things in the future. Meet the elite racing team for 2023.

Sophie Atkinson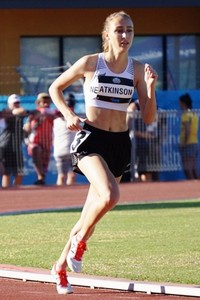 Sophie Atkinson is New Zealand's 800 metre Queen. She started her running career in Year 9 and 10 by competing in park runs, cross country and xterra forest runs. She has since gradated as a fearless front runner who is dominating the 400m and 800m lists. She has topped the NZ U20 800m rankings list for the last 3 years and has previously won both the NZ Secondary Schools 800m champs (December 2018) and the NZ U20 800m champs (March 2019). She followed that up with a silver medal in the 2019 Oceania 800m champs. In the 2020 NZ Champs Sophie had a rare 800m defeat, but gained a silver and a new PB. During 2021 she also showed her versatility by dominating and winning the Auckland Champs U20 Cross Country race. Remember the name as Sophie is a girl who is going places fast!
Sophie Robb
Sophie is a multiple New Zealand gold medalist over a number of distances. Her 5km time is faster than yours. Such domination of Auckland and New Zealand distance and road racing is not surprising given her extremely fast 3km time of 10m15 and 5km time of 17m37. It is merely progress on what she has managed to achieve in previous years. Sophie's remarkable performances, swift times and dominant displays, underline her unparalleled commitment to athletics. As a result she was awarded the 2023 Auckland Schools' Supreme Young Sportsperson of the Year Award. The judges selected Sophie for the 'Supreme Award' after considering many male and female performances from over 30 summer and winter sports.

Equally noteworthy is Sophie's outstanding academic journey, where she consistently excels in highly challenging subjects, reflecting her intellectual acumen from a young age. Her achievements in Year 13 Calculus and advanced mathematical concepts when in Year 10, highlight her aptitude for complex academic pursuits. Sophie's academic brilliance is evident given she gained a perfect SAT score of 800 in Math and an equally impressive 780 in Reading and Writing. Moreover, her current trajectory, based on first half results, suggests she is on the path to achieve a perfect 45 points in the International Baccalaureate (IB). This will consolidate her position well inside the top 1% of the world's scholars.

When not kicking away to win a track or road race, training with the group, or studying, Sophie somehow finds the time to tend to her personal charity "Best Foot Forward" which collects and distributes shoes to community groups. She also works as an academic coach and can be found at the Colgate Games as a qualified athletics official.

Amy Shennan
In 2021 Amy burst onto the running scene with several medal performances. Despite running for the first year in the U14 grade, Amy still managed a hard-fought bronze in the Auckland Championship 1500m. She was then a member of the Auckland Interprovincial team, competing against the best athletes from around NZ. In that series of races Amy contributed to the points, and the teams second placing, with a fast 400m (64s), 800m (2m26) and 1500m (4m57) - where she finished 3rd. Amy has dominated the rest in her school cross country races and has also charted her way through to a 3rd place in the Auckland Orienteering Championships. During the 2022 athletic season Amy ran multiple PBs over 800m and 1500m. This was despite the many interruptions due to Covid. The 2022-2023 athletics season has started in record fashion with Amy being part of the Diocesan School team that broke the NZ Secondary Schools Senior Girls 4x400m relay record. The 2023 season finished with a very fast 2m13 time for 800m and a gold and silver medal in the North Island 4x100m and 4x400m finals.

Scarlett Robb
Athletics fans know the name Scarlett Robb. She is a remarkable athlete with a commitment to excellence, not just in sports but in academic pursuits. Before turning to track and distance racing, she was a multifaceted athlete, excelling in springboard diving and swimming. At one stage she held an impressive 18 Auckland age group swim records. Her international acclaim also extended to gymnastics, where she contributed to the New Zealand team's triumph at the New South Wales Gymnastics Championships.

In the 2021-2022 season, Scarlett gained gold at the North Island Cross Country Champs and followed it up with a commanding victory in the NZ U16 Road Racing Championships. Academically, she displayed exceptional prowess, tackling advanced Year 11 mathematics concepts, while only in Year 9. The 2022-2023 season witnessed Scarlett's ascent to new heights. She dominated the NZ Secondary Schools Year 9, 3km Road Race, retained her North Island Cross Country Crown and although only in Year 10, still managed to maintain top scholar status in national Year 12 NCEA exams.

Scarlett's most recent 2023 achievements are even better. At the beginning of November she had a dominating victory in the Auckland Marathon 5km race. A couple of weeks later she blitzed the U20 Women 5,000m field at the Agency 10,000 New Zealand Championships, with a sizzling time of 17m18. Her consistent podium finishes in national championships, such as the NZ Secondary Schools Cross Country and NZ Track & Field Championships, highlight Scarlett's commitment to the pursuit of excellence. As the current holder of the fastest U18/U20 5km road time in 2023, Scarlett Robb is the one to beat whenever she steps onto the start line.

Kayo Findsen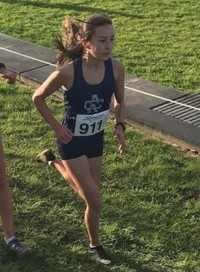 Kayo started running at Ellerslie Athletics when she was 4 years old and has since competed for Auckland City Athletics. In 2019 she won gold in the Auckland Schools Central Zone 1500m and during 2019 and 2020 won the teenage 5km division of the Auckland Marathon races. Over 2020 and 2021 she has focused on competitive tennis but still managed to finish 4th in the Auckland Cross Country Championships. While 2021 and 2022 has been interrupted by Covid lockdowns, Kayo has still managed to run 4m54 for 1500m and 2m22 for 800m. It was therefore no surprise to the team when Kayo was continually up with the leaders during the cross country season. The 2022 - 2023 athletics season started with Kayo in fine form and making her way through fast heats to make the final of the Senior Girls 1500m at the NZ Secondary Schools 1500m.
Louay Benaoum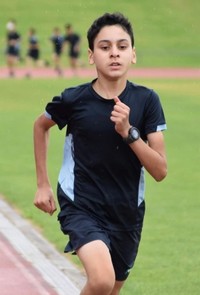 Louay Benaoum may only be 13 years old but has

already achieved

an 85% park run age grading. This means he is an elite National Class level athlete. We are certain that Louay will run that distance much faster this year and achieve an age grading of 90%. That will rank him among the best age group runners in the world. During 2019, Louay consistently finished in the top 3 in the Auckland Cross Country series and then in 2020, despite running against boys up to 2 years older, Louay managed to get 4th in the Auckland Champs U12 Cross Country event. He then moved up the rankings by finishing 2nd in the Auckland Road Race event. He finished 2020 by winning the Auckland U12 800m, 1500m and 2000m titles. During that series he set a new U10 Auckland Record for 2000m (6m42s). Since 2021 Louay has dominated Auckland Cross Country and won the 2021 North Island Cross Country Championships. During the 2022 summer season, Louay was unbeaten in his track races and even managed to take down a 37 year old Auckland Y11 800m record from 2m20 to 2m18. Then, running in the U14 grade, he went unbeaten in the 2022 Auckland Cross Country and Road Race series. He finished 2nd in the U14 North Island Cross Country Championships and 2nd in the AIMs games, Year 7, national cross country event. Louay is constantly competing against and beating boys up to 2 years older then himself. He is considered one of New Zealand's premier and most promising future athletes.



Quinn Winwood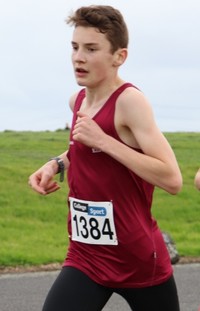 Quinn is moving up the placings with every race. He was the Kings School Cross Country Champion but he has also accumulated a wide range of very good times during the last track season. This including 26sec for 200m and 58s for 400m. Quinn is looking forward to the current 2022 cross-country season as he will no longer be the youngest in the U14 field. Apart from athletics and running training Quinn is also a Tri Star Gymnastics Champion. In this sport, placings are often decided by a mere 0.01 point. In a recent competition, Quinn finished 5th in the North Island Trampoline Championships. Quinn is the 2023 Auckland 800m champion.

Ali Edward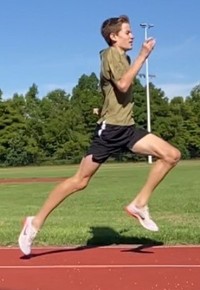 Ali is 13 years old and and a proud member of the Waitakere Athletics club. He started focusing on Athletics at age 7 after placing 3rd at his school cross country event. Over the next few years he made that event his own as well as winning the Central Zone Schools 800m race. Ali is also an accomplished hurdler and high jumper. He placed 2nd in the latter both at the 2021 Auckland Championship and the 2021 North Island Colgate games. At this stage Ali is focusing on a fast 400/800 double but also training for multi-events. In September 2022, Ali produced an exciting sprint finish to win the Auckland Eastern Zone Year 8 Cross Country title and then followed it up a few weeks later with a start to finish, dominating 1 minute win, in the Auckland Year 8 Cross Country. Ali started Auckland Grammar in 2023 and has already made his mark in the athletics team with a fast 2m11s bronze medal in the very competitive Auckland junior 800m race.
Indie Williams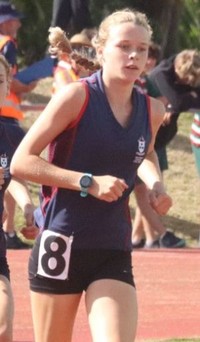 Indie Williams is a remarkable athlete with a passion for leading and winning races. In 2022, Indie dominated in the North Island Colgate Games and set an U14 3000m Junior Resident Record of 10m40. She then won gold in the Auckland Track and Field U14 1500m Championships. In August 2022, Indie won the Auckland Central Schools Y8 Cross Country Championships and the prestigious AIMS games Year 8 Cross Country, cementing her position as the premier Middle-School Female Cross Country runner of the year.

During the 2023 athletics season, Indie continued to shine, dominating all races and winning gold medals in the Auckland Zone Preliminary Championships (1500m and 3000m), Auckland Champion of Champions meeting (1500m and 3000m), and North Island Championships (1500m). She finished the season with a personal best time of 4m43 in the 1500m event, but her impressive winning performances suggest even faster times and records are within reach. At the end of 2022 she was named the Diocesan School Junior Sportswoman of the year, an award that has been hers since 2021. As a result of her outstanding performances she was also awarded a Diocesan School Board Sports Scholarship.

Indie's impressive record is a testament to her talent, hard work, and dedication to her training. With her eye firmly on the future, she is sure to continue making waves in the world of athletics and beyond.

Greta Hunter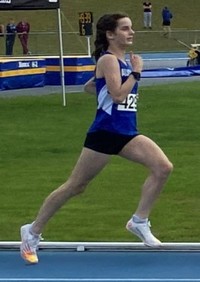 Greta only took up competitive athletics in 2022 but since then has certainly made her mark. From the start of the season Greta improved each race and slowly moved up the ranks. Greta finished the season with a bronze medal in the Auckland regional zones 1500m but then stepped up to silver in the Auckland Champion of Champion meeting at the end of the season. In between she also made the North Island 1500m finals. As well running, Greta is also a multi-talented athlete with medals in aquathon and a silver medal at the national cycling team time trial. Her team was later named the Baradene College junior sports team of the year. In between winning athletics medals, Greta plays for her school in the premier hockey grade. Like most of the athletes in this team, Greta is also a significant scholar who prides herself on academic excellence.
Hannah McManus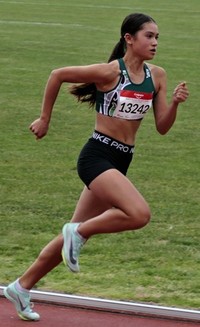 Hannah is a talented and versatile athlete who has been consistently winning since she won 800m gold at the North Island Colgate Games at age 12. She has shown her ability to excel in various events as she has also won Auckland Champs 3000 meters and the Night of Fives 2000m events. Hannah currently holds club records for 2000 meters and a school record for 800m. In 2023 she has won numerous gold medals, including the 800m event at the recent Auckland Schools Championships. She also won a silver medal at the 2023 North Island Schools 800m Champs and is always a key member in medal winning championship sprint relay events. In addition to her track events, Hannah enjoys competing in the javelin, where she is the reigning school, North Island and Auckland Champion. Outside of athletics, her awards include the Junior Golden Boot award at the 2023 NZ Secondary School Futsal Championships. This is the sort of girl that any coach wants on their team. Her outstanding record breaking achievements are not limited to sports as she has been awarded the Diocesan School Year 9 Principal's Award for her dedication, reliability, creativity, resilience, personal excellence, and demonstration of the school motto "Ut Serviamus" (that we may serve).

Asher Carter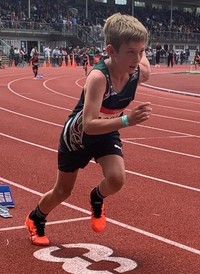 Meet Asher Carter, a talented young athlete who has been competing in athletics since the age of 7. Known affectionately as Asherlete, he quickly discovered his natural ability and has achieved impressive results across various levels of competition. In his earlier years (U10), Asher placed in races at club, Auckland, and national levels, including winning Waitakere City Club Champion, breaking a six-year 1500m record for grade 8, and earning the Most Promising Male U10 award for Waitakere City. Apart from athletics, Asher is an accomplished and valuable football player, winning Player of the Year and nominated for Most Valuable Player under 14s. As well as being a Sports Captain Leader, he was named School Sports Person of the year and finished 2nd in the West Auckland Inter School Cross Country in Year 7 and 3rd in Auckland Cross Country Championships. Asher started training with the squad in 2022 but is also part of an elite High Jumping Squad having finished an impressive 5th at the Colgate Games. He has also represented his school at the AIMS games. At the 2022 Auckland Championships, Asher won gold in high jump, bronze in 400m, 800m, 1500m, and long jump. He had an outstanding 2023 season, clinching the Waitakere Club Championship title and the Most Promising Male U14s. He also achieved a new PB in 1500m and won school gold in the 1500m. Asher's impressive work ethic and dedication are evident in his love for training and hard work. He certainly makes the most out of every opportunity presented to him and with the 2023 cross country season about to start, Asher is determined to continue his winning streak. With his impressive track record, the rest of his competitors better watch out!

James Marsh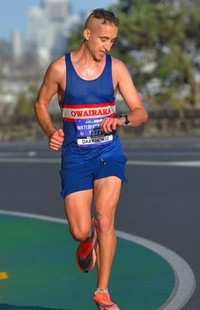 James Marsh has been training with Graeme since 2021, and in that time has won the Coatesville Classic, the Auckland Half Marathon Classic Series, come 2nd in the Auckland Half Marathon Championships and won the Devonport Half Marathon. James won the classic series by minutes over the closest rivals. The goal for James is long distance running and despite setting personal bests in the 5,000m and 10km, he has moved up to compete successfully in half marathons. Over the last year he has taken close to 3 minutes off his 1/2 personal best. We can only see further success in training, which will be evident in future races. Based on how his training is going, James is set to expect big results and performances in future marathon races. In 2023 he kicked off his racing programme with a commanding win in the Albany Lakes 10km race.

The Legacy
When athletes join the racing team they become part of a legacy that is more intimidating than any opposition. Previous team members have been fearless front runners and record breakers. They set high personal standards not just in athletics performances but in academic study. Below are some of our ex-team members who are still competing.

Georgie Grgec
Although it is many years since Georgie Grgec has raced in New Zealand she is still regularly ranked in the top position for 3km, 5km and 10km. While at school Georgie was the NZ schools 3000m champion and participated for NZ in World Cross Country events. She is now a very successful business consultant in the UK but still finds time to enter and win races against other world class athletes.

Kimberley May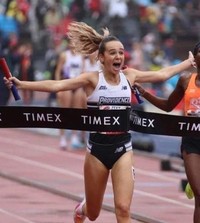 While at school Kimberley May was a multi medalist at Auckland, North Island and New Zealand Athletics Championships. As a result of her outstanding performances, Kim gained a full athletic scholarship to study at the prestigious private USA university Providence College. At present she is a sophomore and over the last year has run u20 NZ records for 1mile and 1km. In April 2023 Kim set a Providence all time record of 2m5.0s for the 800m and then went on to run a sizzling 4m11 leg, anchoring her team to win the 4x1500m at the Penn Relays. All of the team are proud of Kim and what she is achieving. She is paving the way for more to follow.

Penelope Salmon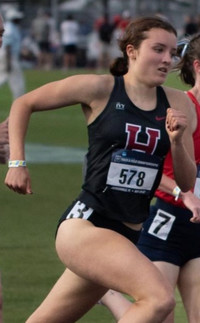 Penelope Salmon is New Zealand's superstar orienteer who also runs track and cross country extremely fast. She has dominated orienteering championships in New Zealand, Australia and Scandinavia as well as having commanding wins in New Zealand Championship 1500m and 3000m events. Before going to study in the USA she locked in multiple national and north island school records and was the undisputed number one ranked 3000m runner in NZ. Penelope is studying at Harvard University. As of April 2023 Penelope is ranked the USA number 2 freshman in the 1500m event.

Lucy Shennan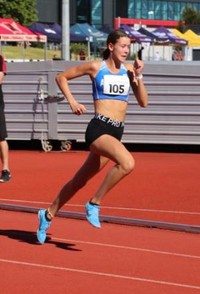 Lucy Shennan represented New Zealand at a number of Oceania and Australian Championship meetings. She not only developed a particular liking for gold medals at individual 400m and 800m events but helped set a number of Auckland, North Island and NZ records for the u18 and u20 4 x 400m relay race. During 2021 Lucy was unbeaten in Championship events. Lucy was also a significant scholar with overall nationally Excellence Endorsed NCEA certificates in 2020 and 2021. During 2023 Lucy went off on a full scholarship to the highly respected Monmouth University in New Jersey. We are all excited and can't wait to follow her academic and athletic progress there.

Aimee MacKenzie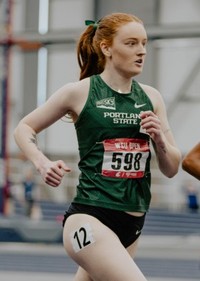 From Year 9 Aimee MacKenzie progressed with faster times and rankings. She won the 2018 u20 mile championships and the 2020 Auckland 5000m Championships. On top of athletics success Aimee gained a scholarship to study at AUT. After completing her Bachelor of Sport and Recreation degree she went to Utah, USA, to further enhance her education. Aimee completed a second Bachelors degree at Portland State University and at the same time ran with distinction on their track team. She is currently on a scholarship at Northeastern University Boston studying a Masters degree in Sports Leadership. As well as still pursuing fast times, she is working as an assistant coach for the university's team. Future top sportsmen and women at Northeastern are lucky that they will benefit not only from Aimee's academic excellence, but her personal insight and experience from racing as an elite athlete.

Lise Thimon

Although Lise was only part of the team for a season, she certainly made an impact. She came into the team as a medalist in the French 800m championships and left as New Zealand 3000m champion. She has since moved back to France where she is completing a Master's Degree in International Law. More importantly she still finds time to compete at a national level and has run even faster over the 3000m distance. At the start of 2023 she was ranked as one of the top 6 runners over 3000m in France.