2021 Racing Team
There is a saying that slow and steady wins the race. However the athletes below show that being fitter and faster is better, especially if you want to win races and medals. This team is prepared to put themselves on the line and push through prior-thought limits in training. They are successful through their consistent discipline, determination and devotion. This includes many hours, days, weeks and months of training. Remember their names as they are all going to achieve great things in the future. Meet the elite racing team for 2021.

Sophie Atkinson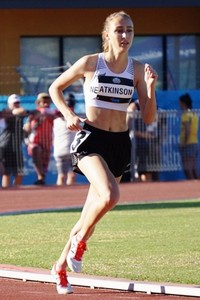 Sophie Atkinson is New Zealand's premier U20 800m runner. She started her running career in Year 9 and 10 by competing in park runs, cross country and xterra forest runs. She has since gradated as a fearless front runner who is dominating the 400m and 800m lists. She has topped the NZ U20 800m rankings list for the last 3 years with a PB of 2m9 and had wins in both the NZ Secondary Schools 800m champs (December 2018) and the NZ U20 800m champs (March 2019). She followed that up with a silver medal in the 2019 Oceania 800m champs. In the 2020 NZ Champs Sophie had a rare 800m defeat, but gained a silver and a new PB. She also showed that her winter training is progressing well by dominating and winning the Auckland Champs U20 Cross Country race. Remember the name as Sophie is a girl who is going places fast!
Kimberley May
Kimberley May was Auckland Athletics 2018 highly commended sports girl of the year as well as the double Auckland Champion for 800m and 1500m. Those who have followed her progress will not be surprised by these results as when Kim was 14 she became the Auckland 1500m resident record holder. Kim currently has PBs of 2m11 and 4m29 for 800m and 1500m. Kim is a not afraid to train hard and consistently pushes all the other girls to their limits. She started 2020 by dominating the 800m and 1500m at the North Island IPs (inter-provincial championships) and then produced a blistering finish to win the prestigious Porritt Classic 1500m in Hamilton. She then followed it up with two silvers at the NZ Championships over 800m and 1500m and another silver in the NZ Secondary School Championships. During April 2020 Kim was ranked as the 13th fastest U18 1500m runner in the world and finished 2020 by being named in the NZ Secondary School Team for 1500m. As a result of her outstanding performances, Kimberley gained a full athletic scholarship to study at the prestigious private USA university Providence College. She will depart for the USA in August 2021 and we know that this next exciting chapter will bring many new exciting opportunities and fast track times.
Peyton Leigh
Peyton Leigh is the rising star of New Zealand athletics with an impressive resume of wins and medals at Auckland and New Zealand Championships. When Peyton was only 15 years old she ran an extremely fast 2m12 for 800m and since then has gone on to continually be one of the top ranked NZ athletes for her age in 800m, 1500m and 3000m. Peyton was the NZ Champion for both the U18 1500m and 3000m and in April 2020 she was ranked number 7 in the world for the women's U18 1500m event. With 1 year to go at high school, Peyton is on the radar of many USA college athletics scouts, not just for her wins, medals and fast times but for her versatility over many distances and disciplines and her excellent academic achievements. Very few athletes are able to balance high performance and high academic results but Peyton seems to take it all in her stride. Her latest efforts in March and April 2021 have certainly caused ripples, especially when she broke a 33 year old schools 1500m record, recorded a world class 4m28 for 1500m and then a couple of weeks later topped the best competitors from around the country when she won the NZ Mountain Running Championships. However for Peyton this is only the beginning as her goal is to rewrite many more records and set new standards for the next generation of young runners coming through. We have all seen her outstanding commitment and training efforts and therefore know that she will do it.
Penelope Salmon
Penelope Salmon is New Zealand's U20 Orienteering Long, Middle and Short Course Champion. In other words, Penelope is New Zealand's superstar orienteering triple champion who can also run track and cross country extremely fast. During 2019 she won the North Island schools 3000m championships by 30 seconds and then dominated the very best athletes in Auckland by winning club and school cross country races by well over 1 minute. However, orienteering is Penelope's focus and as such she has competed around New Zealand, Australia and Scandinavia against the very best competitors in the world. She started 2020 with a 2nd place in the Australia v New Zealand short course orienteering races and during the year won the Auckland Championship U18 Cross Country, and the North Island Secondary Schools short course orienteering event. She finished 2020 with top 3 fastest times in the 1500m and 3000m and in April 2021 ran a blistering 4m25 for 1500m and 9m37 for 3000m when she broke a 35 year old North Island Schools record. This catapulted her to be the number one ranked 3000m runner in New Zealand. Expect her to consolidate her position as Australasia's top female orienteer and to rewrite some more athletics and cross country records during 2021.

Lucy Shennan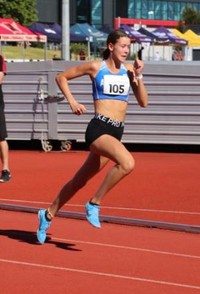 Lucy Shennan has a particular liking for gold and silver as she has won numerous team medals at the NZ Cross Country and the NZ Road Racing Champs. Lucy started the 2020/2021 season with a fast 59 sec time for 400m and finished the year with a bronze medal at the NZ Secondary Schools 800m event. Since then Lucy has really broken out and dominated the 800m event. By end of March 2021 she had run a near 57s for 400m and run a commanding 2m13 when she won the North Island schools 800m championships. We expect many more gold performances from Lucy in the next few years.

Sophie Robb
Sophie has consistently dominated Auckland Cross Country and Road Racing. She experienced a rare defeat when she finished 2nd in the 2019 NZ Cross Country Championships but was back to her winning best when she won the NZ Road Racing Championships. A large proportion of 2020 was missed due to Covid 19 but before that, Sophie managed to lock in Auckland School titles for the 1500m and 3000m. At the start of 2021 Sophie finished 2nd in the North Island Colgate Games 1500m but then a week later won the equivalent South Island event. She then kicked away from the rest of the field to win the Auckland Schools 3000m and finished 2nd in the North Island 3000m Championships in a new PB of 10m15. She still has another year to run in the same U16 grade so expect some very fast times during the next year. Sophie is also a significant scholar, studying advanced Year 13 Calculus while still in Year 10. In her spare time Sophie participates in ocean swim races and joins in Pilates classes.

Amy Shennan
This year Amy burst onto the running scene with several medal performances. Despite running for the first year in the U14 grade, Amy still managed a hard-fought bronze in the Auckland Championship 1500m. She was then a member of the Auckland Interprovincial team, competing against the best athletes from around NZ. In that series of races Amy contributed to the points, and the teams second placing, with a fast 400m (64s), 800m (2m26) and 1500m (4m57) - where she finished 3rd. Amy has dominated the rest in her school cross country races and has also charted her way through to a 3rd place in the Auckland Orienteering Championships. We are all looking forward to seeing how the upcoming cross-country season unfolds for Amy.

Scarlett Robb
Athletics fans know the name Scarlett Robb. We have all seen her take many Auckland school and club 800m and 1500m titles. She started 2021 by finishing 3rd in the North Island Colgate Games 1500m and later the next month dominated the Auckland U14 800m and 1500m events. However, Scarlett is a multitalented athlete across multiple sports and disciplines. Scarlett is also a competitive springboard diving champion, who is a member of the New Zealand Diving Team. She holds 18 Auckland age group swim records in butterfly, backstroke, freestyle and medley. While that would be exhausting to most, Scarlett has also been a international class gymnast. She was a member of the NZ team that won the New South Wales Gymnastics Championships in Australia. During 2021 Scarlett is ramping up the athletics training so expect her to be out pushing the leaders in the next few races.
Leila Daniels
Leila had a big break through in the 2020/2021 track season. She started 2021 by being selected for the Auckland Interprovincial team. At that meeting she gained a gold medal in the 400m and a silver medal for the 800m. She then followed it up with a silver medal in the 400m Junior Auckland Champs. At the school Eastern Zone Championships she finished 3rd in the 800m and then 4th at Auckland School Championships. This meant she qualified the April North Island School Championships. After managing to navigate her way through the heats she made the final 8 and finished the season with a big PB of 2:23 for 800. Her current PB for 400 is 63s and for 1500 it is 5m12. Given her rapid improvement at the end of the season we are expecting those times to be improved next track season.
Meghann Stewart
Meghann Stewart is a former World Masters 1500m Champion and silver medalist in the 800m. Over the last few years she has remained near the top of the world masters 800m and 1500m rankings. Meghann Stewart remains the consummate professional in her attitude and commitment to staying at the top of her grade. To remain as one of the top master's runners in the world she regularly trains at high altitude camps in Iten, Kenya and is not afraid to travel to race the very best. In the last year she has set new Auckland records for W55 800m and 1500m, new NZ records for 800m and was most recently gold medalist in the NZ North Island 400m and 800m.
Emily Hacket Pain
Emily Hacket Pain has represented New Zealand twice in the school's World Cross-Country Championships, the first in 2016 in Budapest and then in 2018 in Paris. In the Paris event she won a bronze medal. She is also the current Auckland Cross Country Champion and the 2018 North Harbour Youth Women's Distance Runner of the Year. As well being a top athlete Emily is also a significant scholar with top achiever, emerging leader and academic excellence scholarships for all the NZ Universities. She is a Duke of Edinburgh gold medalist and in her spare time is a surf life saver. If that isn't enough she is also a community award winner and a Kiwi Bank local hero.

Aimee MacKenzie
Over the last 3 years Aimee MacKenzie has graduated from being gold medalist in the 3000m, Auckland Counties school races, to winning the 2020 Auckland 5000m Championships. In years between she has won medals in the NZ U20 Road Relay Champs, won the 2019 ACA Senior Women's 1500m Cup and was the 2018 U20 Auckland Mile Champion. She was also bronze medalist in the 2018 North Island U20 Cross Country Champs. On top of all this athletics success Aimee balances high level University study. Having completed her Bachelors Sport and Recreation degree she is now studying towards higher Masters level. In the future, top sportsmen and women will benefit from Aimee's academic excellence as well as her personal insight and experience from being an elite athlete.
Louay Benaoum
Louay Benaoum may only be 10 years old but has

already achieved

an 18m28s park run time, giving him an 85% age grading. This means he is an elite National Class level athlete. We are certain that Louay will run that distance under 18 minutes this year. That will give him an age grading of 90% and rank him among the best age group runners in the world. During 2019, Louay consistently finished in the top 3 in the Auckland Cross Country series and then in 2020, despite running against boys up to 2 years older, Louay still managed to get 4th in the Auckland Champs U12 Cross Country event. He then moved up the rankings by finishing 2nd in the Auckland Road Race event. He finished 2020 by winning the Auckland U12 800m, 1500m and 2000m titles. During the series he set a new U10 Auckland Record for 2000m (6m42s). Louay is another boy to watch this year.



Quinn Winwood
Despite running against boys up to 2 years older, Quinn is moving up the placings with every race. He is a Kings School Cross Country Champion but he has also accumulated a wide range of very good times during the last track season. This including 27sec for 200m, 64s for 400m and 5m7s for 1500m. Quinn is looking forward to the current 2021 cross-country season as he will no longer be the youngest in the U14 field. Apart from athletics and running training Quinn is also a Tri Star Gymnastics Champion. In this sport, placings are often decided by a mere 0.01 point. In his most recent competition, Quinn finished 5th in the North Island Trampoline Championships.

Ivor Martin
Ivor Martin may only be 11 years old, but he is already accumulating a number of fast times and medals against boys much older. In the local 5km park runs he has a PB of 18m52s, has run 1 mile in 5m37s, 1500m in 4m58 and 800m in 2m24s. He is the Kings School U12 champion for 800m and 1500m, the Auckland Marathon 2km winner, was a top 10 finisher in the NZ Cross Country U12 Championships and top 5 finisher in the North Island U12 Cross Country Championships. Ivor started 2020 with wins in the Colgate Games 800m and 1500m and then dominated the same events in the Trans-Tasman races. After a season interrupted by Covid Ivor is back with a commanding win in the 2020 Auckland Champs U12 Cross Country event. He then cemented his champion status by also winning the Auckland Road Race event.
Laura Richardson
Meet our Captain Fantastic, Laura Richardson. Whether it be rain or shine Laura will be at the track spreading positive energy, enthusiasm and encouraging and inspiring all the other runners to do their best efforts. Laura also leads by example and is the Sancta Maria College 800m champion and record holder. At high school Laura was a top excellence student who is now in her second year of university study. In 2020 she finished a creditable 5th in the Auckland Champs Cross Country event.